April 9, 2020
Report on SPECIAL MEETING OF NY SITING BOARD ON LOCATION OF WIND TURBINES
In 14 short minutes, the Siting board decided once again to reject local concerns for peoples' health and safety and demands to protect their environment in eastern Broome County. The board managed to 'deliberate' about all three petitions for a rehearing and voted to deny them all, again giving the green light for the erection of 700 foot industrial wind turbines near peoples' homes. This is another example of eager rubberstamping any project coming through the article 10 pipeline.
Simply stating you're in compliance with the statutes when waiving the local law as unreasonably burdensome without discussion, doesn't make it so. Nor does denying that Social Justice Areas exist, make them go away. Coming from a government that thinks nothing of calling 'emergency' law-changing sessions to fix self-proclaimed calamities, or abolish the applicable law altogether through an underhand budget amendment, the attempt to do so comes as no surprise.
There has been absolutely nothing reasonable or fair about these government proceedings. While our lawyers prepare for the next steps, BCCR will keep advocating for sane legislation to appropriately site wind and solar projects, and fight to prevent Upstate NY being turned into a dumpsite to serve downstate energy needs. We won't rest until Cuomo hears our outcry and chooses a path that involves real public input.
Bluestone Wind is the poster child of green energy policy gone wrong, resulting in disastrous siting permits and leaving neighbors scrambling to organize a defense. All due caution and common sense in regard to environmental impacts have been thrown in the wind. Where is the logic in "cutting down a forest to safe the forest"? Where is a fair standard for all, if 30 miles from homes is good for Long Island, but an Upstate local law stipulating 1000 foot from property lines is deemed unreasonably burdensome?
As non-benefiting direct neighbors and landowners in these project areas, we will fight to be heard as an equal stakeholder, demanding the same regard for financial need and survival as the wind developer who was the beneficiary of the biased proceedings.
SPECIAL MEETING OF NY SITING BOARD ON LOCATION OF WIND TURBINES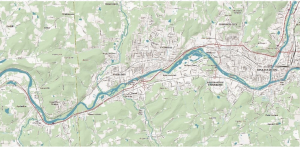 County Concerned Residents (BCCR) spokesperson Anne Lawrence has called on the New York Siting Board at their meeting today (Thursday, April 9) to urge Governor Cuomo to apply the same rule for locating Industrial Wind Turbines in Broome County as he did for the residents of Long Island. He promised the affluent communities in that part of the State that these huge behemoths would be no closer than 30 miles from their homes.
The people of Broome County deserve no less than equal opportunity to bring up their families in peace, quiet and safety from the dangerously adverse consequences of living in close proximity to the 700 foot industrial machines. Likewise the wildlife of this beautiful part of the State, especially the bald and golden eagles who face decimation from the cutting blades of these turbines, deserve to be saved.
This coalition hopes that the Siting Board, which has been convened to hear petitions from the BCCR and other campaigners, will overturn its earlier decision to allow Bluestone Wind to build and operate these turbines. We hope and expect that the Siting Board will see sense and take into consideration the many legal arguments raised against siting this project as proposed. These supersized turbines belong miles out at sea, or in industrial zones and brown fields – as suggested in the newly adopted statewide siting law – not right near homes of ordinary folk, or involving cutting down natural forests and destroying wetlands. Bluestone Wind is an illustration of green energy objectives gone wrong, a situation that will hopefully be prevented going forward with better statewide standards for siting wind or solar projects. We in the BCCR remain dedicated to protecting the local mountains, pristine trout streams and lakes from the devastation that will surely follow in the wake of these turbines.