Broome County Arts Council Presents Feburary's First Friday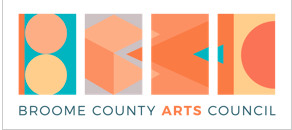 BINGHAMTON, NY. Broome County Arts Council (BCAC) is pleased to present February's First Friday Art Walk from 6PM to 9PM in Downtown Binghamton on February 3, 2023. Some locations have varying hours, please check details below. Printed brochures will now be available at participating locations! Most exhibitions are free and open to the public. This month's First Friday participating open galleries and creative spaces include 12 locations:
•Cooperative Gallery 213: LOVE, exhibiting members respond to the theme of love in a personal, cultural or political sense through their art (5PM-9PM).
The Artisan Gallery: Home in Each Other, An exhibit of paintings by Luanne Redeye. Home in Each Other is an exploration into the relationships we hold with each other, telling the stories of family by weaving together personal narratives, home, identity, and culture (6PM-9PM).

The Bundy Museum: Through The Wardrobe, Fantasy Photography by Alexis Michelle Tauterouff (6PM-9PM).

Binghamton Photo: A Picture is worth…What, Exactly? A Photographic Exhibit by Jaelin Kole (6PM-9PM).The Discovery Center: Everything Bugs Exhibit, The Discovery Center will showcase an art exhibition by The Discovery Center Kids inspired by bugs and their natural habitats (4PM-7PM).

Garland Gallery: The Music of Pat Raube, come and enjoy the dulcet tones of the one and only Pat Raube, singer/songwriter. This First Friday Pat Raube will be playing love songs (6PM-9PM).

The Gallery at Broome Community College: Vikings, Villages & Volcanoes, come and enjoy the opening gala for this immersive Iceland exhibition (Opening Gala 4PM-7PM).

Lost Dog: Nature Works, Come and view this posthumous show of Tom Gordman's beautiful oil on canvas nature paintings (12PM-10PM).

Muckles Ink!: Live Print Demonstration with Live Music, Come watch a live print of shirts with a Parade Day / Saint Patrick's Day theme, and listen to the Broome County Celtic Pipes and Drums perform! (6PM-9PM, Live Music @ 7:30PM).

Orazio Salati Studio and Gallery: Where Does the Time Go, new action paintings, full of colorful drips and splatter from artist Vincent Briblo (6PM-9PM).

Phelps Mansion Museum: Architectural Tours, Come explore the Phelps Mansion and learn about the architecture of the house and the man who designed it, Isaac G. Perry (tours are at 6:15PM and 7:15PM).

The Roberson Museum: Memories of Braided Lives, Using period objects, photographs, and quilts, "Memories of Braided Lives" reconstructs the quilters' daily lives and the significance of self expression in lives devoted to domestic industry. $3 for non members (5PM-9PM).
The Broome County Arts Council is proud to continue First Friday with the generous support of the Broome County Government, City of Binghamton, Visit Binghamton, and Wegmans. Updated exhibition information and a Google Map are available on our website: https://broomearts.org/in-the-community/first-friday/. Downtown Binghamton Locations featuring cultural or arts activities and exhibitions should reach out to the Broome County Arts Council to learn more about inclusion in the First Friday Art Walk!
CONTACT: Holly Cooper, Community Programs Coordinator, Broome County Arts Council
P: 607-723-4620 ext 102 E: hcooper@broomearts.org