Artists at Cooperative Explore LOVE in February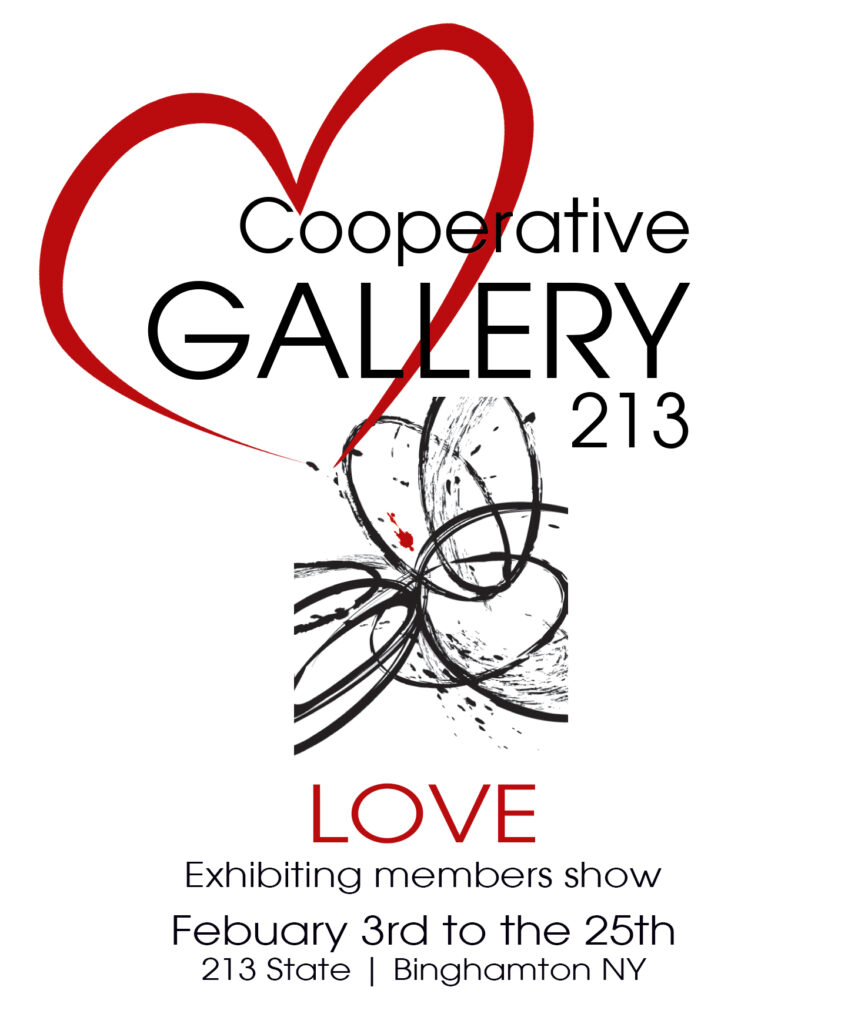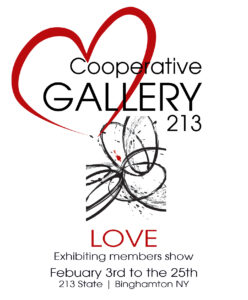 LOVE is coming to the Cooperative Gallery 213 in February! Work by exhibiting artists will be on view from February 3-25.Members sometimes have themed shows or set themselves some artistic challenges and given the state of the world and the obvious solution, the exhibiting members thought this was a good time to explore the many forms of love."It is time for hope, understanding and love in the world," said Karen Kuff-Demicco,
" Art has a way of inviting viewers to share the artist's ideas .   Come see what has been created to bring LOVE  to 213 State street in Binghamton, NY.  First Friday is February 3..  On February 16 at 7 (Third Thursday) Exhibiting artists at the gallery will talk about their work concerning LOVE. A writers workshop will read excerpts from their work on Third Thursday. Several artists are exploring all kinds of love, including, romantic, platonic, sibling and parental love as well as the love we receive from animals.
According to Stephen Schweitzer, organizer of the event "As we travel through this life… we realize that there is nothing more important than love. And how do we celebrate this? One day is dedicated to love… in the coldest month of the year. Why not have a month of LOVE? Please join us as our exhibiting members express their love all month long February 3-25th!"
On Saturday February 11th , from noon to 3 pm visitors to the gallery will be able to make postcards to send to those in need of some love. The LOVE Show brings other opportunities for participation and selfies at the gallery. To "Send a Postcard to a Friend in Need of LOVE" make your own design with paint, collage, glitter! and hearts, and we will supply the stamp! (Bring your address book!) Enjoy fresh baked valentine cookies, and help define "Love is…" on a giant heart.
Members will explore the LOVE theme in their art and will create special items such as cards, interactive pieces, and paper folding. A six by six foot cardboard replica of the Robert Indiana sculpture will be a popular selfie spot on State St. All just in time for Valentine's as well as "Palentine's Day, February 15th, a new holiday to celebrate friendship.
For more information, contact cooperativegallery213@gmail.com or visit the website and social media at www.cooperativegallery.com. There will be a live FB event at 7pm.