The Broome County Safe Housing Task Force will be hosting its first community forum this coming Tuesday, February 5, from 5:00 – 7:00pm, at the Broome County Public Library.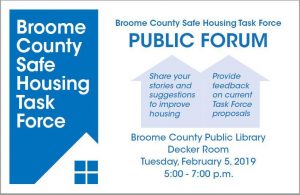 The Task Force was announced by County Executive Jason Garnar last fall. According to the County's website, "This collaborative coalition brings together department representatives, community leaders, and local housing experts to make policy recommendations to elected officials with the end goal of stable, decent, and afforable housing in Broome County."
The Task Force 'Core Group' has met six times since October 2018, and plans to present some initial recommendations. The Forum will allow residents to both react to the
recommendations, and share their own challenges finding safe, decent, and affordable housing in Broome County.
It's incredibly important, said Task Force members, to hear from the community about their own housing challenges.