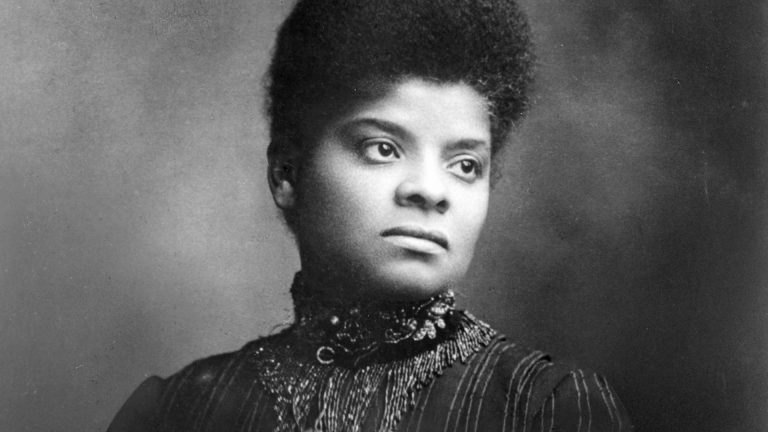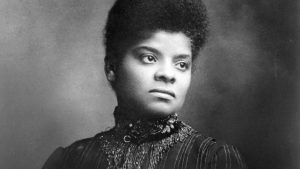 Ida B. Wells-Barnett (1862-1931)
Born in Holly Springs, Mississippi during the US Civil War she was destined to become one of the earliest famous black woman during a life centered on combating prejudice and violence.
Her father was the son of his master who allowed him to do a carpenter apprenticeship.  There he met Ida's mother who was the cook.  His mentor wanted him to vote Democratic and he refused.  He locked up and moved on.
In 1876 at age 14 when her parents and a baby died of yellow fever, Ida insisted in taking charge of her five siblings, three sisters and two brothers, the youngest age 2, to keep them altogether.  Her fortitude enabled her to become a country school teacher as her grandmother moved in to help.  When she moved to Memphis, TN her aunt helped.
Ida's first civil rights encounter was when she took a seat in the ladies' coach on the train as usual.  Since the Civil Rights Repeal the conductor told her to go to the smoker car.  He attempted to remove her and she sank her teeth into his hand.  He returned with two other men and shortly when the train stopped she got off the train.   She engaged a lawyer to sue the Chesapeake and Ohio Railroad, who after months delays she realized the RR had bought him off. Initially winning $500 with a new lawyer, the case was overturned in order to not set a precedent.
Her horizons expanded in Memphis as her following as a journalist grew and she wrote for the Memphis Free Speech and Headlight newspaper on race issues, insisting on equal ownership of the paper.  Here her awakening to the horror of lynching began over a child's game of marbles between a white and black youth near a competing black grocery store.  The short story is the black men defended the store, they were arrested, the white posse of 70 stormed the jail and lynched three of them.  The local power structure did not like her editorials and three months later while she was out of town they physically trashed the newspaper office.  She decided not to return and took a position with the New York Age paper.  This was the beginning of a lifetime of investigative reporting on lynching as revealed in her books:  Southern Horrors, Lynch Law in All Its Phases and The Red Record.   She deplored that people were at the mercy of vigilantes without due process of trial and jury.
In her research she concluded: 1) lynching was used to subdue rebellion of workers, 2) during Reconstruction to re-establish white supremacy, fearing "Negro Domination", 3) claims to avenge assaults upon women.  She noted that consensual white women relationships with blacks turned to false claims when exposed.
Unable to change the tide in US religious denominations to believe the transgressions she embarked in two trips to England to garner support in 1893 and 1894.  At that time it was a five day ship voyage.  England had overcome its own defense of the cotton industry finally giving up slavery.  Her autobiography details sometimes four a day speeches to willing audiences up to a thousand in attendance in Scotland, Wales and England.  She became the first African-American woman to be a paid correspondent for the Chicago Daily Inter-Ocean paper.  The New York Times slandered her.  In her travels she was supported by Frederick Douglas.  She met Quaker Ellen Richardson in England who had purchased his freedom while he was in exile.
In 1895 she married Attorney Ferdinand Lee Barnett a widower who had two sons and they had four more children.   They aided each other in the cause.  She juggled nursing babies and insisted that a nurse be provided when people would ask her to come to their city or state to speak.  She challenged many people during conflicting organization meetings.  She wrote many resolutions that were presented to government officials.  She was part of the formation of the NAACP and a plethora of other women's civil rights organizations in Chicago and nationally.
When she realized "those blacks near the wharf in Chicago are up to no good", she went to find out what people were alleging and she found out the YMCA would not allow black men moving north in for service or rooms.  She was able with her connections to get money donated to start a "reading room" and shelter for blacks who she then helped find jobs.   She was appointed a probation officer to help them.  (JUST is following in her footsteps.)
Source:  CRUSADE FOR JUSTICE, The Autobiography of Ida B. Wells