Back in 2009 and 2010, as local governments started to drown in the wreckage of the Great Recession, Washington didn't even bother to show up to lend a hand. Our federal leaders from both parties were too busy shoveling tax dollars to the very same Wall Street firms that imploded our economy and ultimately wiped-out billions in household wealth, with Black and Latine households hit hardest.
This time, Washington Democrats are taking a completely opposite approach: shoveling mountains of tax dollars back to local and state governments.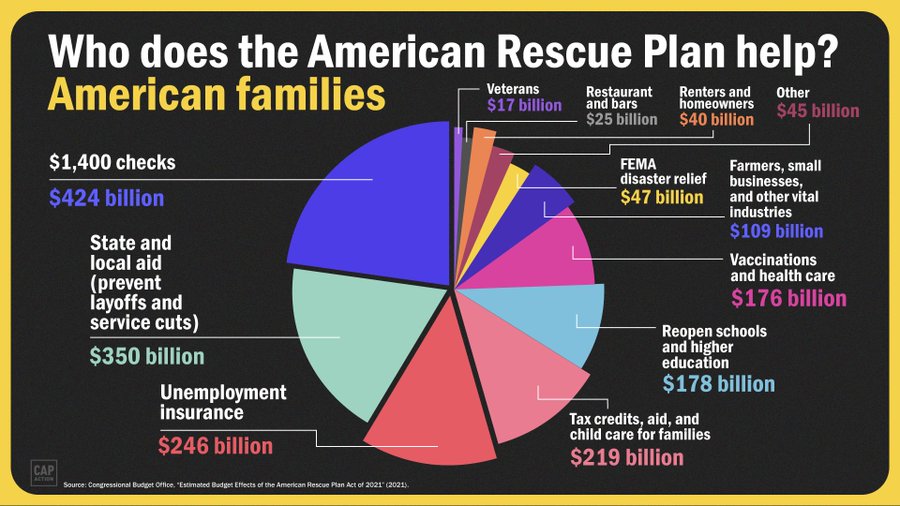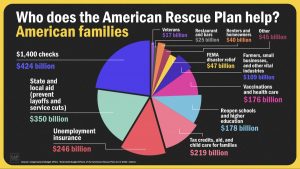 Biden's $1.9 trillion American Rescue Plan includes $350 billion for local and state aid to assist with COVID-19 response and recovery, which comes with little to no restrictions. No corner of the country will be left out of this stimulus frenzy, and the estimated amounts that will soon flow into every municipality, county, and state in this country are mind-boggling.
I can't overstate that. The numbers truly are massive and mind-boggling.
(For full listing of aid estimates for all 50 states, localities, tribes, and territories, see link at bottom of this release from the U.S. House Committee on Oversight and Reform).
For example, here are the estimated federal aid amounts for some local jurisdictions:
City of Binghamton, $48 million
Town of Union, $32 million
Broome County, $37 million
Around upstate New York:
Utica is estimated to receive about $64 million
Syracuse is in line for $126 million
Rochester could net more than $206 million
Buffalo will be swimming (drowning?) in more than $350 million
There's no question local and state aid is needed, but many researchers, academics, and policy experts (this author included) question whether this is too much aid.
Take Binghamton. During his State of the City Address (copy of his speech here) two weeks ago, Binghamton Mayor Rich David said that his team's projection last October about the sales tax revenue was way off the mark. They originally anticipated a shortfall of $1.5 million in sales tax for the calendar year in 2020, but sales tax revenue actually ended up approximately $300,000 more than what was budgeted.
Mayor David also said the City is lifting the hiring freeze, has the highest amount in general fund reserves in decades (reported by David at more than $19 million at EOY2020), and he anticipates he'll be able to keep taxes flat again in 2022. David also said the Governor's team, which withheld a portion of state aid to all local governments last year, has promised to make local governments whole once it receives the federal aid.
If the City's finances are so healthy and strong, then what will the nearly $48 million in federal aid be used for?
Well, the City can make a reasonable case to use a few million dollars in aid to make up for lost revenue in parking fees, blue bag fees, and water rents, for example. Maybe the City can also use a nominal amount to hire back any city staffers who were furloughed. But then what?
That, I believe, should be up to us.
Here's the exciting and hopeful news: local governments, counties, and states will have until December 31, 2024 to spend the funds, which means there is an unprecedented opportunity to design mini-Marshall Plans that lead to an equitable and just recovery.
Binghamton could cover minor fiscal disruptions caused by the pandemic, and still have more than $40 million dollars to commit to this multi-year recovery effort.
That's mind-boggling.
It's also a bit scary.
Because local, county, and state leadership will largely determine whether these federal dollars are invested wisely or completely squandered.
The local officials we celebrate ten years from now will be those who, today, see this as an unprecedented opportunity to advance an equitable recovery with a singular focus to protect and improve the health and security of people, households, businesses, and neighborhoods—and who target aid to those most in need.
The greatest stewards of this one-time infusion of massive federal aid will be those who embrace a process that prioritizes inclusion, transparency, and accountability.
The leaders we celebrate in 2025 will be those who decide today to use the aid to not just recover from the pandemic but to repair and heal a historic wound. Those leaders who are bold and courageous in their calls for racial equity, acknowledging that the pandemic disproportionately harmed individuals and households of color but that these racial disparities are historic and entrenched, stemming from a nation whose DNA is still wrapped by the twin coils of systemic racism and white supremacy.
Years from now, the local and county governments that will be held up and celebrated as models of excellence will be those that creatively leveraged this massive federal aid package to build innovative collaborations and equitable programs to protect and improve housing security, health security, food security, and economic security—and who helped children from low-income households catch-up from a year of schooling that was strained or altogether lost due to the pandemic.
Naturally, that's why I'm nervous about the nearly $48 million estimated for the City of Binghamton.
Mayor David has proven again and again he likes to "call the shots" in a way that protects and improves his political image and legacy first.
Over seven years, Mayor David has made City Hall less transparent and less accountable.
Mayor David has shown again and again—and most recently with the police reform initiative—that he lacks the vision, courage, and compassion to center the voices and experiences of those folks most harmed by the status quo. He favors equality over equity—or maybe he simply doesn't understand the difference between the two.
To Mayor David, inclusive collaborations are threatening, and less participation is optimal.
When folks publicly disagree with or criticize the Mayor, he responds with misinformation and petty attacks.
While Mayor David's past actions are cause for great concern, his recent comments about the federal aid are troubling as well.
In the last two weeks, some U.S. Senators critical about the size and unrestricted nature of this local and state aid worried that states and local governments will simply take the massive aid packages and just cut local taxes, or plug budget holes that stem from mismanagement and not the pandemic.
In his State of the City Address (2/23/21), David affirmed these fears when he promised to do just that.
In talking about the looming federal aid, he said he would use it to "…pay down debt, further stabilize taxes, and so much more."
When the Mayor says, "pay down debt," I worry that's code for cleaning-up the nearly $300 million dollars in debt he recklessly charged to future generations with the joint-sewage treatment plant redo.
Later in his Address, Mayor David double-downed on this misguided approach and clarified, "If our financial picture improves and the City receives adequate federal stimulus funds, we will look to make another tax cut."
Mayor David is already proving the critics right in Washington, as he drools over how to use this once-in-a-lifetime opportunity to first and foremost cement his political legacy.
Fortunately, Mayor David is in his last year of office, and he won't be around long enough to completely botch this historic opportunity. Also fortunate is that the aid to local governments will be split in two equal payments: one in the coming months, and the second payment a year from the first payment.
The $1.9 trillion American Rescue Plan will be signed by President Biden soon, perhaps as early as this Friday—despite unanimous opposition by every Senate and House Republican. And it may be a couple months before the U.S. Treasury offers some guidance on this aid and then releases the funds to every community in this country.
But make no mistake: we need to start organizing now. This is an unbelievable and exciting opportunity to demand and help shape an equitable recovery that protects and improves the health and security of individuals, households, businesses, and neighborhoods—with an intentional focus on those most in need.
This is the fight in 2021, folks. Let's make it hopeful, exciting, and inspiring.
Most of all, let's make it count.
(PS. Let's not forget to once again thank the amazing Black women from Georgia who organized, sent two Democratic Senators to Washington, and made this unprecedented opportunity possible. Respect.)
Tarik Abdelazim is the former Director of Planning, Housing, and Community Development for the City of Binghamton, and currently works for a national nonprofit that assists communities with designing policy and programmatic solutions to vacant, abandoned, and deteriorated properties in supoport of equitable development, inclusive neighborhoods, and community resiliency. He is a frequent contributor to The Bridge.