The Cooperative Gallery is excited to present the work of Diana Whiteman in "Growth Patterns" and Karen Fedczuk in "Familiar Spaces" opening First Friday August 5th and open Fridays 5- 8 pm and Saturdays 11 am- 3 pm through August 27th. The artists will talk about their work at the gallery's regular Third Thursday Art Talk August 18th 7 pm via zoom and live at the gallery.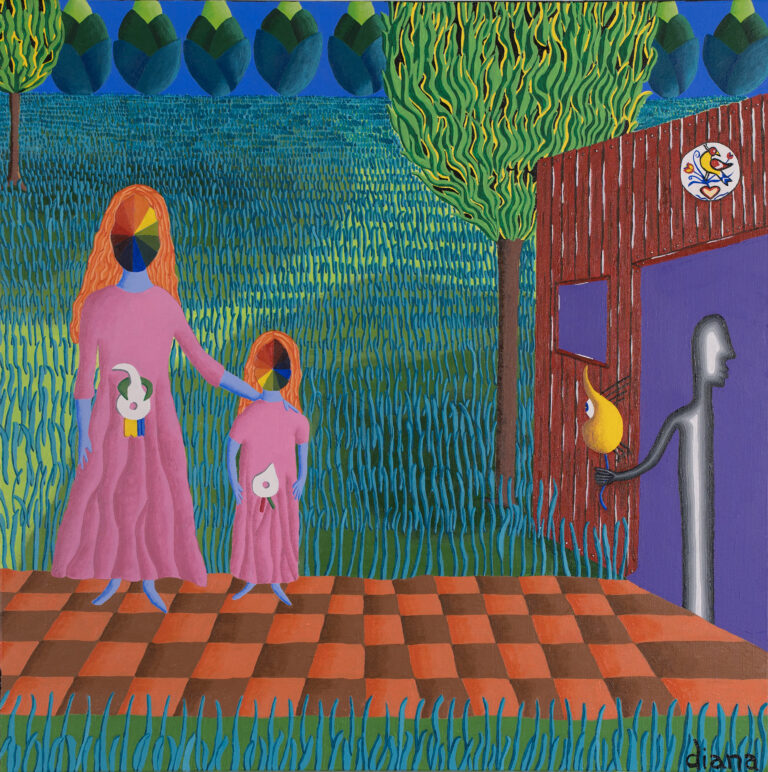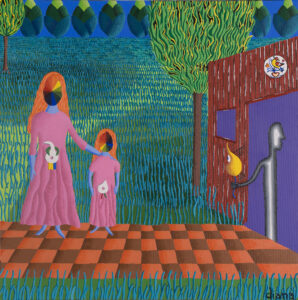 Diana Whiteman, who is showing at the Cooperative Gallery for the first time, will show paintings in acrylic. She says, "I am attracted by the patterns in the natural world as well as inside the body. I explore the dynamics of growth in plant and animal life as well as personal or metaphysical growth.  She continues, "I tend to look at things closely, which lends itself to both discomfort and fascination. Being removed from the natural world, there is a kind of peace in depicting plant life, whereas images of the body or animal life may cause a more visceral, sometimes uncomfortable reaction. At the same time, the plants I choose to depict have a personal if amorphous significance to me, which grows as I spend more time with them."  See more of her work on this YouTube video.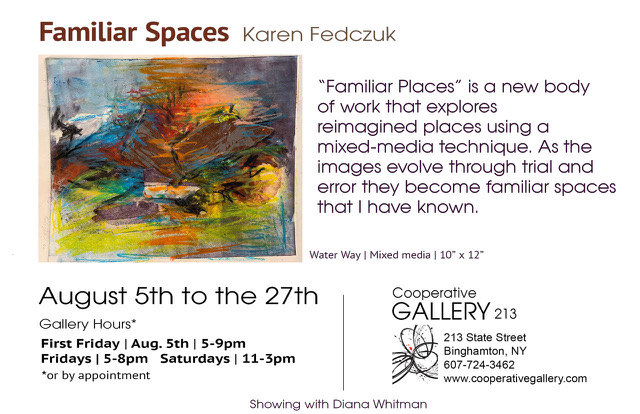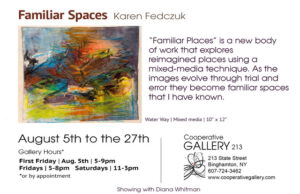 Karen Fedczuk explores new territory in each of her exhibits at the Cooperative Gallery. She explains, "Familiar Spaces is a new body of work which explores reimagined places using a mixed media technique. As the images evolve through trial and error, they become familiar spaces that I have known."  For more information watch Karen's video here.

The Cooperative Gallery 213 on State St. in Binghamton is in its 22nd year of presenting local artists' work and sustaining a community around visual arts. A regular feature is Third Thursday Art Talk with current exhibiting artists presented by Zoom and in person, this month on August 18th at 7 pm. The downtown gallery is open Fridays 5- 8 pm and Saturdays 11 am to 3 pm and by appointment with the artists. The gallery publishes a weekly e-newsletter and posts on its social media. For more information email cooperativegallery213@gmail.com. 
 
###