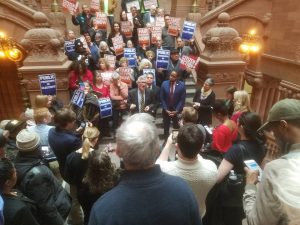 LESS THAN A MONTH TO GO
There is less than a month to go to enact a public financing of elections law this year.  Let's get this done and allow a greater diversity of people access to the political process.  Let's reduce the influence of big money and major corporations by giving small donors a fair chance.  Let's elect people who represent the people.  For more information on the Fair Elections bill in New York go to –https://fairelectionsny.org/
The time is now and you are needed to get this done.  
Call Assemblywoman Donna Lupardo at 607-723-9047 or 518-455-5431 and tell her to push Speaker Heastie (pronounced Hasty) to put Fair Elections in the Assembly budget and thank her for signing on to the letter of support.
Call Assemblywoman Barbara Lifton (Ithaca) at 607-277-8030 or 518-455-5444 and tell her to sign on to the letter of support.
Call Senate Speaker Andrea Stewart Cousins at 518-455-2585 to tell her to be sure Fair Elections is in the Senate budget.
Call Governor Cuomo and thank him for putting Fair Elections in the Governor's budget and tell him to keep it there – no compromising on Fair Elections.
YOU CAN MAKE THE DIFFERENCE – THANK YOU FOR CALLING