LUMA Project Arts Festival is partnering with the Cooperative Gallery and the Dept of Public Art to create a Mural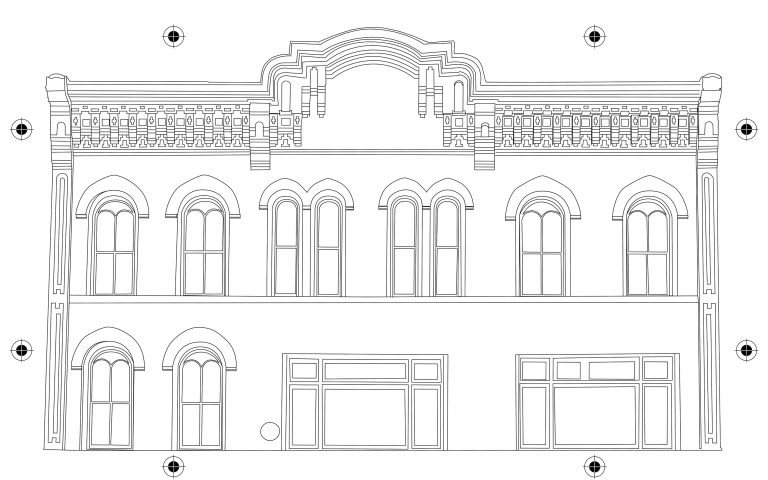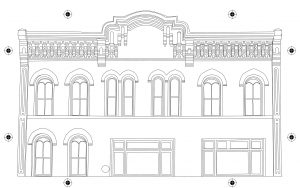 Mapping Project on the CVS Building during the Festival September 6 and 7, 2019.  Mural Mapping is the term used for a still image, drawn, painted or collaged on the template of a building. When projected, the building will be transformed into a mural that is mapped using the architectural features. "The best efforts in last year's Mural Mapping Project built on those architectural features or used the spaces in the windows and openings," according to Judy Salton who will present a workshop to help artists design a mural.
The exact template must be used to make an accurate projection. Templates will be available on 18X24 canvas, Bristol paper, or in a digital file at the Cooperative Gallery 213 State St. and Garland Gallery  on 116 Washington St. Submissions will be $10 each, cash or check (payable to LUMA Projection Arts). The deadline is August 23 3-6 pm and Saturday Aug. 24th 12-4  at the Cooperative Gallery. Murals will be chosen that fit in well with the facade of the CVS building and will be shown on a revolving basis throughout LUMA festival.  The originals will be on display at First Friday and for the month of September at the Cooperative Gallery. For more information, contact deptofpublicart@gmail.com. Join special Facebook page LUMA Mural Mapping Artists.
More info:
LUMA invites you to submit your work for the 2019 projection festival! Your work could be featured as a projection on the facade of CVS in downtown Binghamton
– Populate one of our templates with your artistic vision. We accept BOTH digital submissions and works on physical templates, which we can provide. The best designs use the architectural details of the building. Windows will be whited it out so they can be decorated. Registration marks must not be covered.
Digital template Request from LUMAMuralMapping@gmail.com. Application fee is due when turning in your design.. Send your finished file (psd, jpg, or other file to the same email. Fee can be paid via bingamtonbridge.org DONATE button.
Templates in 18"X 24" canvas or Bristol watercolor paper are available at the Cooperative Gallery 213 State St and at the workshop, and during regular hours Fridays 3-6 pm and Saturdays 12-4 pm AND at Garland Gallery 116 Washington St. Binghamton Tues- Sat 10-6, Thurs til 7pm. $10 cash or check to LUMA Projection Arts due at pick up
DEADLINE and Drop–off to Cooperative Gallery 213 Friday Aug 23, 3-6 pm or Sat. August 24th 12-4 pm
NOTIFICATION: LUMA will choose images for projection based on the suitability for projection. Notification of inclusion August 30th
FACEBOOK page: Join us at LUMA – Mural Mapping Artists 2019