by Rick Sprout
For many years the Binghamton-Johnson City Sewage Waste Water plant has been operating with a physical fa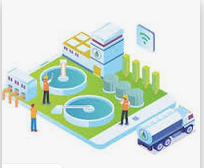 cility that does not meet the State & Federal requirements for the treatment of waste water.
Workers at the plant struggle daily to overcome the plant's shortcomings in order to maintain the very basic minimal necessary operation.All of the plants shortcomings were made worse when the 2011 flood waters covered parts of the plant. Since the flood politicians of both parties have been "working"
on getting the plant rebuilt.
The contractor hired to do the work is over one year behind schedule.While the physical condition of the plant does not allow for the plant to the produce the necessary water standards,the workers at the plant continue to keep the operation going.The board that oversees the operation is headed by the Mayors of Binghamton and Johnson City. While the board has not been-able get the physical plant up to necessary operational levels it has been proposed by Binghamton Mayor Rich David that the operation be turned over to private enterprise.
The cities will have to pay the interest on millions of dollars of loans that were taken out for the rebuilding.Some money will come from the feds and the State.Millions will come from bonds floated by the operating cities with interest on the bonds paid by citizens/ taxpayers.THE BANKS MUST GET THEIR SHARE.A PRIVATE COMPANY THAT MAYOR DAVID HAS PROPOSED OPERATING THE PLANT WILL INSIST ON MAKING A PROFIT.
Who Will Pay For All This?
The citizens of Binghamton and Johnson City and all other users will pay an increased fee for
the long overdue refurbishment of the plant.
The profits for the private operators will be paid off the backs of the workers.
The "privatized" plant will hire people who receive less pay and or/benefits.Maybe both.
Elimination of the existing pension plan,increased cost for health insurance,fewer sick/vacation days are all on the table.Will welfare be necessary to keep these ex-employees and their families in food and rent?
Why does Mayor David want to sell out the fairly low wage employees who have given so
much to the operation? Will some community support for these workers affect Mayor David's
attempt to seek higher office? We hope so.
The Broome Tioga Green Party supports these workers.We urge the other parties to do the same.
–Rick Sprout – Chair