The new Broome County Public Art Directory reveals the many murals and sculptures that exist in Broome County. In collaboration with Broome County Planning, the Dept of Public Art (DPA) has posted murals on the site and on Sunday October 17th launches the site to the public. "While most people recognize there are many arts and cultural assets within Broome County, they might not realize how many resources can be enjoyed just by walking through the community," observes Stephanie Brewer of the BC Planning Dept. "The interactive map showcases the county's unique public art installations, which are intended for anyone and everyone to enjoy. Although we documented dozens of installations, we know there is more art out there. Help us improve the map by letting us know is there are any public art installations we might have missed."
"We encourage everyone to look through the map, learn about the murals and artists, and then go experience the public art throughout Broome County," comments Peg Johnston of the Dept of Public Art. "For those interested in seeing mural painting in progress, DPA will have live painting from 11 am- 3 pm on Oct. 17th."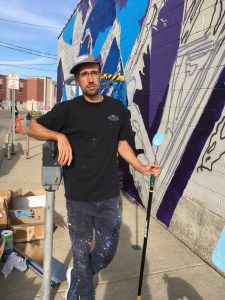 One artist, J. Muzacz, a mural artist from Austin Texas, will be painting a mural honoring Johnson City's musical legends Al Hamme, Slam Stewart, and Dena DeRose on a building at Willow and Main Streets. Muzacz's mural is part of the iDistricts Murals and Mosaics Public Art Program, funded by New York State.
Members of the Dept. of Public Art will also be painting utility boxes near the railroad tracks at Baldwin, Willow, and on Floral and Broad Streets. The Dept of Public Art has received a grant from Broome Co. Arts Council to add to the directory and promote it.
The Dept. of Public Art was founded in 2012 and has encouraged and created public art, including dozens of murals in Binghamton and Johnson City, in downtown Binghamton, and in several parks, such as Floral Ave. Park, Cheri Lindsey Park and Ross Park Zoo. For several years, they provided murals on plywood to put on boarded up properties. There is a major installation in the Water St. Parking Ramp telling the story of Binghamton's contribution as "the Birthplace of Virtual Reality" in that exact location. The Dept. of Public Art is a group of volunteers and supported by grants and donations. The website is www.deptofpublicart.com and has a map of its own murals.