The Cooperstown Art Association Is Announcing An OPEN CALL
To Participate In Our 2019 Miniature Show!
Artists of a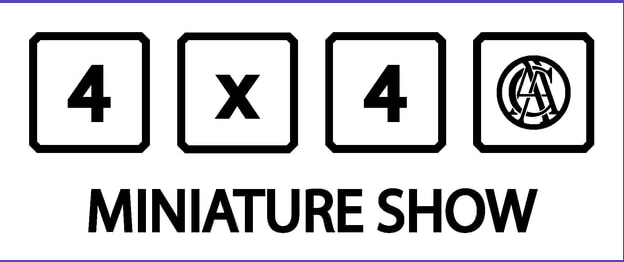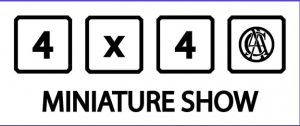 ll ages are encouraged to create
up to 4 works of art on 4×4″ paper squares that
you can pick up anytime at the CAA Galleries.
For a full description of the exhibit and rules,
see the flyer posted below.
Gallery Hours: Daily 11-4pm, Sunday 1-4pm
Closed Tuesdays Labor Day – Memorial Day
www.cooperstownart.com
4 x 4 : The 2019 Miniature Show at the Cooperstown Art Association Galleries
The 2019 Miniature Show will be an open-call to artists of all ages. All artwork will be completed on a 4″x4″ piece of paper, provided by the Cooperstown Art Association. Each entrant will be given four of these squares to complete a maximum of four entries. The provided paper is suitable for all dry and most wet media (two-dimensional work only, no photography). All work will be for sale at $20 each and on display in Galleries A & B from October 4 – November 1, 2019.
How to Participate:
To participate, you must first request the paper squares and a loan form from the CAA.
Write your name and city/state on the back of each entry
All entries will be for sale for $20 each. Your loan form must designate any sales as either a full donation to the CAA or a 50/50 split commission with the gallery
Entries can be delivered to the CAA anytime (during gallery hours) up through the delivery deadline
Rules:
You must use the paper provided. Entries completed on other surfaces will not be accepted.
You may not complete work on another surface and simply adhere it to the provided paper.
Anything added to the surface must not break or alter the outer edges of the paper. (Final must remain 4″x4″ in dimension)
Square orientations only – no diamonds please
No three-dimensional work will be accepted
No photography will be accepted
Do not frame or mat your entries
Important Dates:
Friday, September 27…………………………….Deadline to Deliver Artworks
Friday, October 4……………………………………..Opening Reception 5-7pm
October 4 – November1…………………………………………….Exhibition Dates
Saturday, November 2……………………………..Pickup of Unsold Work, 11-4
(if not designated a donation to CAA)