"Night Ch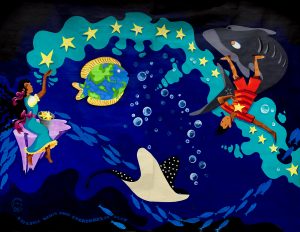 ildren" a new mural by Susan Champeny was installed on the back of the bath building at Floral Ave. Park in Johnson City by the Dept. of Public Art.
"I think we have painted every square inch possible at the Floral Ave. Park," commented Peg Johnston of DPA. "And more importantly, we have given the park and the children who use it some positive attention and have stimulated other improvements." The activities were funded, in part, by a Community Development Block Grant through the Town of Union, and the Chenango Co. Arts Council NYS Decentralization Grant and the Hoyt Foundation.
The mural was painted by Champeny on Pellon fabric and mounted with an adhesive by the artist and several volunteers from the Dept of Public Art. The mural "Night Children" is based on a story by Champeny's wife Chris Benders who "was tired of not seeing fun fantasies for children of color when she was growing up, so she invented this space world."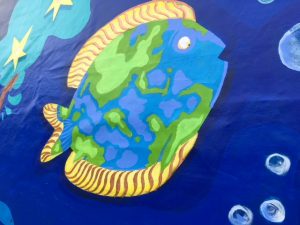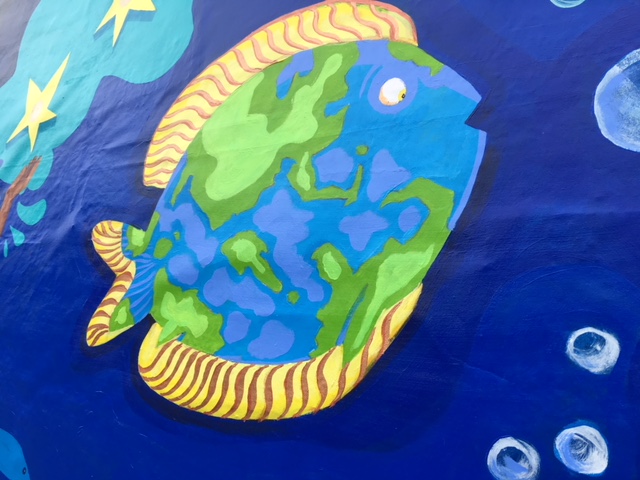 The full name of the story is "The Night Children, Gilsa Star Girl and her brother Kelso, put up the stars each night with the help of the Tattooed Star Shark, the Galaxy Ray and the World Fish."  According to Benders, "The entire Night Family are caretakers of the Cosmos, including washing the planets and hanging out the Aurora Borealis to dry. They surf the star light waves and sleep on the soft billows of the Milky Way when their work is done." A series of art works and the story are planned for a children's book. Champeny also designed "Space Play" on the other three sides of the bathroom building which is part of that same fanciful universe, and the pool building rear wall, which was painted with the help of DPA volunteers.
Champeny comments, "I am delighted with the placement where JC children can see it." This last mural joins eight other murals at the Park, most recently grid art on the pool building by Jesse Ryan and Emily Rodgers. Earlier this year, the interior of the baths were painted with sumptuous color and designs (Jesse Ryan and Steve Sie), and at the 2017 Mural Fest, two murals on the handball court by Bruce Greig and Judy Salton as well as the other two buildings by Champeny. A super hero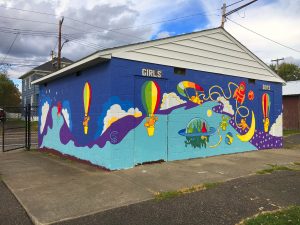 mural is being completed by JC artist Kareemah Scurry.
For more information about the Dept of Public Art, see the Facebook page or www.deptofpublicart.com.