Throughout the year, local reporting and community activism shined a spotlight on  a number of unethical and illegal actions taken by City Assessor Scott Snyder over the last few years that generated significant financial benefits for Mayor Rich David. Some of the local reporting even resulted in internal investigations by the City Attorney's Office, an admission of wrongdoing ("it was a mistake"), and policy changes in the Assessor's Office. (For links to the original reporting, see the end of this article.)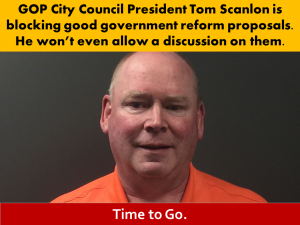 However, when presented with sensible good government reform measures to restore the integrity of the local assessment system and protect local taxpayers against such questionable conduct in the future, GOP City Council President Tom Scanlon has refused for over a month to even allow for a discussion at the Council work session. In fact, the Council President has yet to even respond to multiple email requests, some of which were made by the City Clerk on my request (see screenshots below).
It started back on August 28. Following the advice of Binghamton City Attorney Sharon Sorkin, I submitted two Requests for Legislation that sought to improve accountability and transparency, and restore the public's trust in the local assessment process:
 Financial Ethics Disclosure Act for Binghamton Officials, which basically takes the same ethics reporting process that Broome County requires of its officials and public board members, and extends it to Binghamton officials. I thought this practical step would be a no-brainer, particularly since GOP City Councilman Giovanni Scaringi is one of the three members of the Broome County Board of Ethics that oversees and reviews the County's disclosure reports.
Annual Reporting of Assessment Reductions, which would require the Assessor to report annually, in a very readable and simple spreadsheet, all the privately-owned properties in the City that received a reduction in assessment in the prior year. Recall,

Mayor David did not go before the Board of Assessment Review, a public body, to argue for a reduction.

Instead, he simply walked down from his executive suite during a workday, into the office of the guy he appoints, and requested an "informal review." The Assessor independently and quietly agreed to slash the Mayor's property assessment by 27%. This simple new reporting requirement would bring full transparency to the Assessor's independent decisions and serve as a strong deterrent to future unethical, or illegal, conduct.
The two good government reform measures are nonpartisan and pragmatic. They bring greater transparency to local government, and reduce the chance for unethical conduct.
So why is City Council President Tom Scanlon refusing to even entertain them? I sent multiple emails, and copied in the City Clerk, following my August 28 submission, and GOP President Scanlon didn't even bother to respond once. Radio silence.
I don't know why Scanlon wants to bury these proposals, but I intend to speak up at the October 9 Business Meeting. I will ask ANY and ALL Council members to personally sign-on to the RLs, which would technically obligate Council President Scanlon to put them on the work session agenda for discussion.
These simple, no-cost measures will bring greater integrity, accountability, trust, and transparency to our incredibly important assessment system. I certainly hope ONE member on Council will stand up for the underlying values and intended outcomes of these two legislative proposals.
Stay tuned.
---
First email, August 28 and confirmation from City Clerk: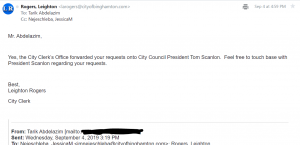 Second, follow-up email to GOP City Council President Tom Scanlon: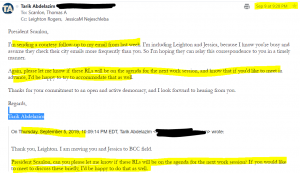 Third email to GOP Council President Tom Scanlon: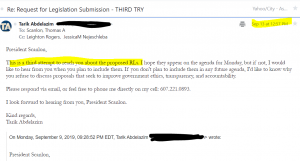 Background and Related Stories:
As reported exclusively here on The Bridge earlier this year (article), the Assessor quietly reduced the assessment on Mayor David's downtown residence by 27% months after David's re-election, and little more than a year before the Mayor would make a decision on the Assessor's reappointment. A more critical review of the questionable assessment reduction also uncovered a STAR exemption that the Mayor was illegally benefiting from, which again was featured here at Binghamton Bridge (article). In public statements, the Mayor said he was encouraged to apply by the Assessor and thus assumed everything was legit. The Assessor later explained "he wasn't aware of the rules and made a mistake," even though the STAR exemption is the most popular and widely used tax break program in the state.