I was on the road the last two days for work, serving as a resource at a conference for local government employees from Republican and Democratic administrations across New York to help brainstorm effective strategies to transform vacant housing to neighborhood assets with a focus on equity, sustainability, and justice.
My p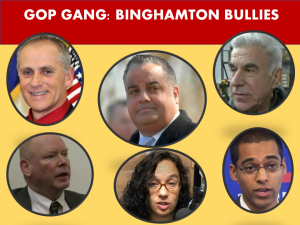 hone started lighting up Thursday morning.
Apparently, on Wednesday, Republican Mayor Rich David had his rubber stamps on City Council launch a partisan hit job on Councilman Dan Livingston two weeks before the election. The old "October Surprise."
Dan's crime?
Fulfilling his promise to his constituents to use technology to improve transparency at City Hall, and increase access to the democratic process for all residents.
The Republicans won't say that, of course.
Instead, they ginned up some absurd smear campaign, attacking Dan for doing the work none of them could do to attract a BU intern who, so impressed by Dan's commitment to participatory democracy, also offered to help with his campaign on her own time for a small stipend.
They called this outrageous, and unethical. They said this was all "secretive" and should be made more transparent. They demanded an investigation.
I read this from afar and laughed, knowing this was all shameful political theater, another desperate and dishonest smear campaign to eliminate the one Council representative who refuses to be the Mayor's rubberstamp, who truly believes in transparency, and who carries out his commitment to public service with integrity and excellence.
I read the comments from the City Council Republicans in news articles and just shook my head.
Where was all this Republican outrage, I thought, when they learned that the Assessor, who the Mayor has sole authority to re-appoint, granted the Mayor an illegal tax exemption on his downtown property and unethically and quietly reduced the assessment on the Mayor's downtown property by 27%?
There was no principle outrage from Republicans then. Instead, Republican Council members shrugged their shoulders and basically said, "Nothing to investigate here." Which is odd, because the quid pro quo between the Mayor and Assessor is Major League corruption right, and this BU internship is like six-year old tee-ball shit.
Livingston's student internship! It's outrageous! We must investigate!
But there's more. How about the Deputy City Clerk, who is appointed by the Council Republicans and can be fired at any moment by the Republican majority? I'm guessing you didn't hear. Turns out she is also serving right now as the Treasurer for the Republican City Council candidate, Phil Strawn–and who knows if she was ordered to do that, with the threat of losing her city job if she didn't.
Of course, City Council Republicans want to keep that "questionable" relationship quiet as they fire missiles at Dan for hiring a student intern that thought he was so cool she was willing to help him get re-elected.
"This internship…..We must investigate!," the Republicans screamed, frothing at the mouth.
What about when Mayor David's own Deputy Mayor, Jared Kraham, was busted during the Mayor's re-election campaign for making social media posts with altered and fake headlines of local news articles  to gain political advantage? Do you remember any City Council Republicans expressing concerns about "ethics" and demanding "an investigation?"  Of course not. Not a peep.
"All this dishonesty from Dan!," screamed the City Council Republicans.
Look, let's be clear. This isn't "principled outrage" by City Council Republicans.
This is a pathetic and shameful coordinated attack, two weeks before the election, on Councilman Dan Livingston for one reason and one reason only: because Mayor David can't control him.
When Dan campaigned for office, he promised his constituents he would use technology to make government more transparent, accessible, and accountable. And he's done exactly that, keeping his promise in a nonpartisan way.
He has recorded public meetings (because the David administration refuses to) and archives them for all to view when their time permits.
He consistently makes meeting minutes and agendas available online (because the David administration fails to do so), offering residents a chance to better understand when and how decisions are made.
He has brought attention to the corruption, incompetence, and cost overruns at the joint-sewage treatment plant, when the Mayor has tried to keep all this quiet or behind closed doors.
He engaged in a sensible and pragmatic investigation of the quid pro quo between the Mayor and the Assessor that slashed Mayor David's local tax bill by thousands of dollars.
Let's be clear: Dan's only "crime" is refusing to be a stooge for the Mayor, and for taking his role as public servant seriously.
And in response, Mayor David has gone all Trump, using all the resources at his disposal–including the Republican-led City Council–to wage a ruthless smear campaign and political attack to eliminate this responsible, effective, and principled voice from City Council.
This has nothing to do with an intern.
This is the work of Mayor David, a political bully who can't stand being held accountable, and who is desperate to turn the public's attention away from his debacle at the joint sewage treatment plant, and his unethical quid pro quo with the Assessor.
I'm confident Dan's constituents will see this for what it is, a desperate and shameful political attack, and will trust him with four more years of public service.
Because Dan's shown nothing but respect for them the last four years.